Microsoft 365
(a.k.a. Microsoft Office)
This FAQ presumes that the latest updated version of Microsoft Office/365 is installed on the computer you are working on. The latest updated version is offered free-of-charge to UNB students, faculty, and staff by ITS (Information Technology Services) via the myUNB portal. If you have any issues with installing or updating the software, please contact ITS.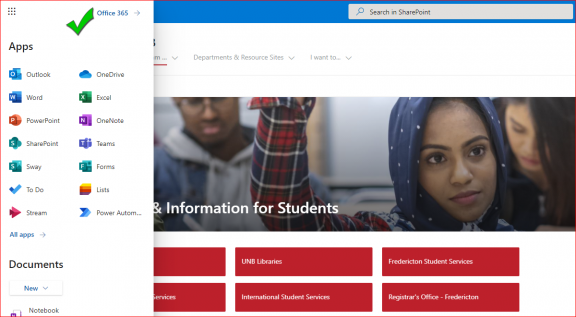 Before you proceed…
…there is one tool in MS Word that you should become familiar with. The Show/Hide toggle (¶), represented by the paragraph mark (a.k.a., the "pilcrow"), is one of the most useful tools you will ever use in MS Word. It lives in the Paragraph group on the Home tab of the ribbon, and when activated, allows you to see all of the formatting marks that are present throughout your document (spaces, paragraphs, cell markers, tabs, returns, section breaks, etc.) These formatting marks demonstrate the structure and layout of your document and can help you understand and really control the overall architecture of your document.
Features of the FAQ
This FAQ employs various colour-coded icons, highlighted words and terms, and other distinctive text with the purpose of bringing your attention to important or vital information that may be useful to you.
Colour-coded Icons and Alerts
This type of alert indicates an action sequence, executed via software commands and controls or with specific mouse or keyboard input.

This type of alert indicates useful information related to the topic or section at hand, sometimes providing additional resources.

This type of alert indicates important, and sometimes vital, information that should be considered as an advisory or cautionary in nature.
Highlighted Words and Terminology
Sometimes you will come across grey-highlighted words that indicate

software commands and controls

.
Other times you may see dark-highlighted words that indicate

mouse or keyboard input

.
So… what sort of help are you looking for anyway? What part of your document requires special attention?
Frustrations? Apprehensions? Quandaries?
If find yourself at your wits' end and you need to contact a live human, help is not far away. For any technical, structural, and formatting issues with your document, please send a detailed explanation to Tammy Nichol, Publishing Systems Technician, including screenshots or a copy of your document via email attachment or shared link (OneDrive, SharePoint). You should receive a reply within twenty-four hours (excluding weekends and holidays).
Contact Us
ETD Support
UNB Scholar
Graduate Programs
Related Resources