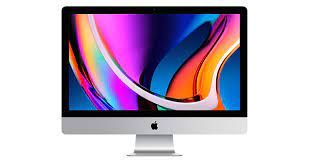 Fredericton
Mac Media Computers
The Harriet Irving Library has Mac computers available in the John B. McNair Learning Commons.  These computers are available for working on media projects (e.g. video, sound, and image, 3D).
The first floor Learning Commons has three 27″ iMacs with Retina 5K display, each loaded with the full Adobe Creative Cloud suite of software applications as well as iMovie and Garageband. Studio quality headphones (ATH-M20x) and Apple SuperDrives to read optical media such as CDs and DVDs are also available.
Windows Media Computers
The Harriet Irving Library Research Commons provides a digital media creation and editing cluster of four HP EliteOne 800 G5 23.5" All-in-One (with built in webcam) Windows 10 computers. They are located between the Digital Scholarship Hub, the Lightboard Studio, and the Audio Studio. These computers hold 16GB of memory each and are specifically configured to assist with media-implicated projects (i.e. editing video, audio, 3D designing, etc.). 
Each computer is equipped with the following software: Adobe Creative Cloud (all Apps), GIMP (Image manipulation program), DaVinvi Resolve, Handbrake and Audacity. Use your own wired headphones or borrow studio quality headphones (ATH-M20x) from the Commons Service Desk on the first floor.
Saint John
There are three 27" iMac computers available on the First Floor of the Hans W. Klohn Commons. Each is loaded with iMovie and Garageband. Headphones and Apple SuperDrives to read optical media such as CDs and DVDs are available at the Library Services Desk.
We've got the computers and the tools for you to do your best work.