The second node in UNB's makerspace ecosystem (see UNB Makerspace), the Fabrication Lab at the Harriet Irving Library Research Commons provides tools and fosters community for engaging in hands-on learning and making activities. Whether incorporating material representations into a class project, developing a prototype for a business, printing promotional materials for an event, or sewing a patch onto your favourite jean jacket, ours is an inclusive, versatile space open to people at all skill levels. 
Technologies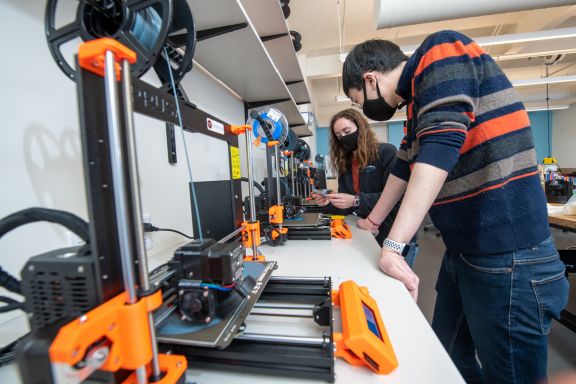 Equipment
6 Original Prusa I3 MK3S+ 3D printers
Einscan SE 3D Scanner
Crowley Overhead Document Scanner
Cricut Maker, Cricut Mug Press, and Cricut Textile Press
Button Maker
Soldering Iron
Brother CS6000i Sewing Machine
Ryobi Rotari Tool
Onsite software
Cricut Premium (for finding and downloading Cricut designs)
Fusion 360 (for 3D model design)
Sketchfab Premium (for hosting and embedding 3D models)
Thingiverse (for finding and downloading 3D models)
Community Tools
Tool Kit (socket wrench and sockets, screwdrivers, wrenches)
Rechargable Drill
Anvil Vise
Bubble Level
Raspberry Pi 4
Helping Hands
Gitial Calipers
Belt Sander
Craft Cutter
Rulers/Guides
USB Charger(s)
Dremel
Staple Gun
Mini Hacksaw
Mini Screwdrivers
Clamps
Hammer
Utility Knives
Allen / Hex Keys
Wire Strippers
Crafting 
Jewelry making supplies
Acrylic paints
Card stock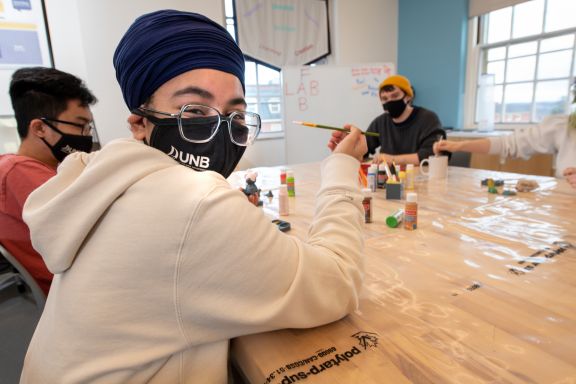 Hours of Operation
Beginning April 19, 2022, during exams and into summer, the Fabrication Lab is open for UNB community members from:
Monday-Friday 1:00 pm - 5:00 pm
During these hours, staff can help you learn to use the technologies and assist with projects.
Otherwise open by appointment (contact Marc Bragdon - mbragdon@unb.ca).
Fabrication Lab Policies
Please familiarize yourself with our policies and expectations.
Fabrication Lab Lockers are available for rent in the FabLab. Complete a HILRC Locker Application Form_Fillable PDF.pdf and drop it off during open hours. Each locker has a $15.00 annual fee and a $10 key deposit. Upon return of the locker year at the end of your rental, you will be given your $10.00 deposit back. For questions about Locker rentals please ask our FabLab staff or contact researchcommons@unb.ca 
Fix it Mondays, 2-5pm every Monday, Winter 2022 (now ended)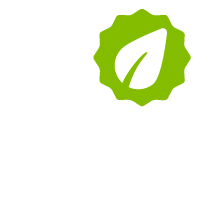 A UNB Sustainability Green Certified Event.
What's old is new again (Sustainability blog post)