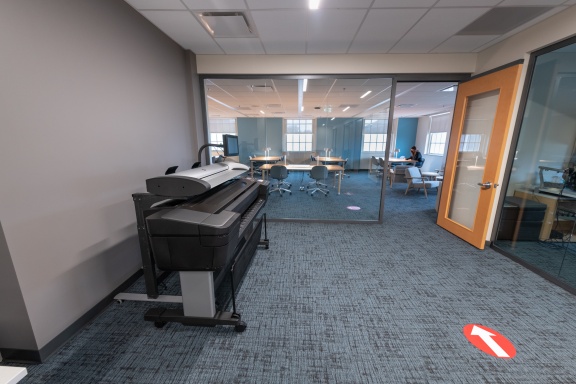 HP DesignJet Z6 Printer
Located in the Harriet Irving Library Research Commons is a HP DesignJet Z6 printer. This large-scale colour inkjet printer is designed for printing high quality images on paper up to 44 inches wide.
With multiple paper options, this printer is ideal for printing maps, technical drawings, posters, and banners with precise, accurate line quality and crisp text. You can cut your projects to different sizes with the integrated vertical trimmer. Alternately, this piece of equipment can also scan large-format images.
For information regarding cost of printing, types of paper available and more please contact Jhanvi Joshi (jhanvi.joshi@unb.ca), Research Commons Manager or Siobhan Hanratty (hanratty@unb.ca) Director of Learning and Engagement & Data/GIS Librarian, UNB Fredericton.