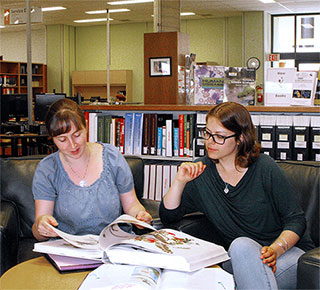 The Science & Forestry Library (SciFor) serves the Faculty of Forestry & Environmental Management and the Departments of Biology, Chemistry, Earth Sciences, Math and Physics. It is located in the IUC Concourse (building 17 on the campus map) at the hub of the various Science & Forestry buildings. Just outside the doors is the IUC Café and lounge.
The SciFor Library is home to the services and collections listed below:
Cables, adaptors, laptops and more
Theses (Printed Science and Forestry theses and dissertations, 1918-2013 are also available.)
Computer lab
Government forestry reports

While most governmental publications are now produced digitally, the SciFor Library's FORF collection consists of governmental forestry reports, mostly from Canada and the United States but a few from further afield.

The library has two study areas: a "quiet" side where some quiet conversation is permitted, and a "silent" side.
In-person, by phone, or by email, the librarians and staff of the Science & Forestry Library are ready to help with all inquiries.
Postal Address: Science & Forestry Library, University of New Brunswick, P.O. Box 7500, Fredericton, NB, E3B 5H5
Physical Address: Science & Forestry Library, University of New Brunswick, 4 Bailey Drive, Fredericton, NB, E3B 5H5
Maps and Floor Plans
Contact Us