Research data should be submitted to institutional (UNB Dataverse ), discipline-specific, community-recognized repositories where possible, or to generalist repositories if no suitable community resource is available.
A tool to assist in identifying repositories (from DataCite):  https://repositoryfinder.datacite.org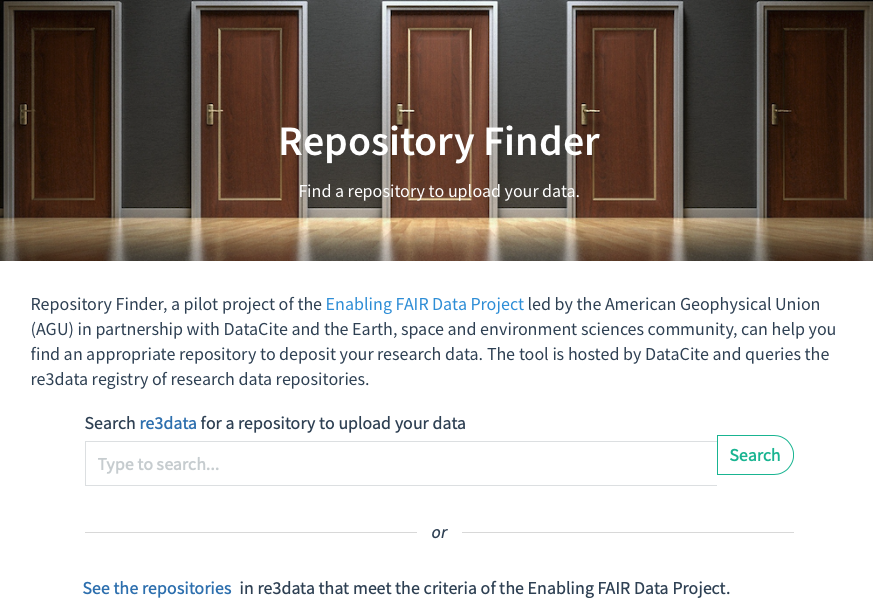 Available repositories: 
a platform for Canadian researchers to deposit and share research data, and to facilitate the discovery of research data in Canadian repositories. This is a collaborative project between Portage Network, CARL, and Compute Canada. FRDR utilizes Compute Canada resources to store research data as well as Globus services to transfer files and search for information. FRDR is particularly suitable for archiving and sharing large data sets (300 GB or 25,000 files). 
Getting started with FRDR 
To get started on FRDR demo, go to https://demo.frdr.ca/ and attempt to log in (in the header menu). From there you'll be prompted to create an account. You can use a Google, ORCID, or Compute Canada account, or you can create a new account with Globus. (Note: There is no current support logging in using the university account, but it is something that will be available in the future)
 
When you have an account, select the "Deposit Data" button on the FRDR demo homepage and you'll see a message asking you to email support to receive permission to use demo. (This is only the process for limited production. Once an administrator receives your email they can add you to the FRDR depositor group.)
 
In demo you can perform test submissions, get a sense of the metadata form to fill out, use your browser or Globus transfer to upload some test data, etc. You will need to download Globus Connect Personal to upload large datasets to FRDR using Globus, or to download large data files or entire datasets.
 
Some useful links:
FRDR documentation: https://www.frdr.ca/docs/en/home/
Globus Connect Personal download: https://www.globus.org/globus-connect-personal
An example of data record in FRDR: https://www.frdr.ca/repo/handle/doi:10.20383/101.0111
Some repositories on this page may only accept data from those funded by specific sources or may charge for hosting data. Be aware of any deposition policies for your chosen repository. The list includes the following disciplines and areas: 
Biological Sciences

Nucleic acid sequence
Protein sequence
Molecular & supramolecular structure
Neuroscience
Omics (functional genomics, Metabolomics, Proteomics) 
Taxonomy & species diversity
Mathematical & modeling resources
Cytometry & immunology
Imaging
Organism-focused resources

Health Sciences 
Chemistry & chemical biology
Earth & environmental sciences
Physics, astrophysics & astronomy
Social sciences
Generalist repositories
Science-specific repositories suggested by PLOS One
The list includes subjects and areas such as:
Biochemistry
Biomedical Sciences
Marine Sciences
Model organisms
Neuroscience
Omics
Physical Sciences
Sequencing
Social Sciences
Structural Databases
Taxonomic & Species Diversity
Unstructured and/or Large Data
an international non-for-profit organization for archiving and sharing research data. Platform hosted data, and share data under open terms of use (for example the CC0 waiver). 
re3data.org - Registry of Research Data Repositories
a global registry of research data repositories that covers research data repositories from different academic disciplines. 
Dryad new! ("Building on our Successes: Past and Present" ; Dryad-Zenodo integration )
GitHub (a development platform for sharing source codes, open-source)
Dat - a distributed data community
Dat is a peer-to-peer platform for publishing datasets both large and small. Its design borrows concepts from distributed revision control systems, allowing multiple users to contribute changes and updates to a dataset while retaining authorship information and preserving older versions. Dat was initially funded by the Knight Foundation under an initiative that "seeks to increase the traction of the open data movement by providing better tools for collaboration." The Try Dat section of the project site contains a detailed tutorial that covers creating, publishing, and updating a dataset. Reference datasets are also provided in a number of formats, including a CSV on recent earthquakes, a JSON file of recently published DOIs, and Bionode format genomics data. The tutorial covers installing Dat on Windows, macOS, and Linux. Dat is free software, distributed under the BSD license, with source code available on Github.
The infographic below will help you to make an informed decision on where to deposit your research data.