Don Brewster
"Ah! Yes! Explorer, that is a person who explores."
- How Willie Became an Explorer
Don Brewster's stories for young readers feature animal protagonists who come face to face with many challenges. In How Willy Became An Explorer, a young mouse named Willy sets out for adventure while his older brother heads off for his first day at school. At first he is apprehensive, but with the guidance of a daddy-long-legs spider named Cedric "who had been all over and was real smart and knew just lots of things," Willy discovers many wonderful things close to home. Oland the Unwise Owl is about a know-it-all owl that makes many foolish mistakes and finally learns to think things through. The introduction to How Willie Became an Explorer describes the book as "A children's book which contains really worthy messages about manners and morals and awareness of life, so attractively put together that children will never tire of reading it." This statement can be extended to both of Brewster's books, which take the moral education of children as their central themes.
Nan Doerksen (1934-)
Nan Doerksen, a graduate of the University of New Brunswick, is involved with the Overseas Missionary Fellowship, a Christian organization which does charity work in Asia. Her experiences overseas and in Fredericton inspire her chapter books for young readers, which focus on Christian family life both in Canada and abroad, in the past, and in the present day.
Juliana Horatia Ewing (1841-1885)
"I suppose the New Brunswickers would be duly indignant at my not calling Fredericton a town - for it is a city!"
- Canada Home: Juliana Horatia Ewing's Fredericton Letters, 1867-1869, p.15.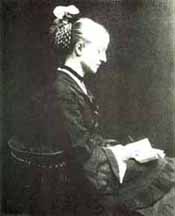 Juliana Ewing is a well-known author of children's books. Most of her works were written in England, but three items have been identified as having been written while she lived in Fredericton, New Brunswick. Her husband, Captain Alexander Ewing, was with the 1st Battalion of Her Majesty's 22nd (Chesire) Regiment. The Ewings arrived as newlyweds the week of the Confederation celebration in late June, 1867. They remained until August, 1869, when the regiment, the last colonial presence, left the city.
The three stories written during Mrs. Ewing's stay in Canada are Three Christmas Trees, An Idyll of the Wood, and Reka Dom, a chapter of her novel Mrs. Overtheway's Remembrances. Reka Dom, meaning "river house," was the name the Ewings gave to their first Fredericton home, a 21-room house located along the Saint John River. Elizabeth S. Tucker's 1896 book, Leaves from Juliana Horatia Ewing's "Canada Home," discusses the years that Mrs. Ewing spent in Fredericton and the influence of her experiences here on her work and includes both photographs and drawings of the places that were of importance to her.
Sheree Fitch (1956-)
"I wonder if thunder's
When angels go bowling
If the sky explodes
Because of cannon balls rolling."
- "I wonder about thunder" Toes in My Nose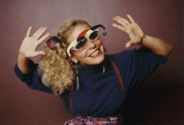 Fredericton writer and performer Sheree Fitch entertains her audience, as readers or listeners, with lively rhythms and tongue-twisting plays on words. She has written several books for children, chapter books for younger readers, a novel for young adults, as well as a collection of poetry for adult readers. In 1990 she won the Atlantic Booksellers Choice Award and in May of 1993 she was one of six recipients of the Mr. Christie's Book Award at a ceremony in Toronto. In 1987 she was one of only three Canadians awarded the Queen's Fellowship.
Rhymes, vivid images, absurd jumbles and tag-along syllables all appeal to young readers and listeners. In Merry-Go-Day, the word "merry" is stretched to "merry-go-round," "merrily around," "merrily sound," "merry-go-day," and "merry-go-dream." Not all words are familiar or easy to pronounce, but they fit nicely into the rhythm and rhyme of the tale being told. For example, in Sleeping Dragons All Around, there is an assortment of dragons with names such as Pythagorus, Jebediah Jones and Beelzebub. Also, the poems contain fun words and tongue twisters for children to try to recite on their own. This same poetic sensibility is carried over into the longer fiction including The Gravesavers, in which Fitch paints the Maritime scenery as beautifully and delicately as an artist with a fine brush, and emotions swell with the power of waves on the shore. Fitch is sensitive both to children's concerns and to the ways they express them, and this comes across throughout her work, from her rhyming picture books to her more sophisticated stories.
Mary Grannan (1900-1975)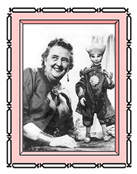 Like so many writers of children's literature before and since, Mary Grannan was a public school teacher with a keen passion for writing stories for children. In the mid-1930s Grannan began entertaining children over a local radio station. Word of her media success soon spread and, in 1939, she embarked upon a career in children's programming for CBC Radio in Toronto.
For the next 20 years Grannan created a cast of memorable characters for radio and eventually television. There was the loquacious Maggie Muggins, the avuncular Mr. McGarrity, Petunia 'Possum, Mrs. Beetlebug, Fitzgerald Fieldmouse, Orville Bug, and many many more. To what did Mary Grannan attribute her success for so long? As she recounted in an interview in 1972, "I never had a difficult time writing for children, I had it in me. You have to be young in spirit. And then you have to know children, listen to the way they talk and how they talk. I think this is half the success; I taught school, I was among children. They made or coined their own words so I did it too. They recognized themselves in what I wrote."
Elizabeth MacDonald Roberts (1864-1922)
The big brick house from which Mrs. Merrithew and the children set out on their walk stood on one of theback streets of a little New Brunswick city, -- a very small but beautiful city, built on a wooded point that juts out into the bright waters of the St. John River. Of this river the little Canadian Cousins are justly proud, for, from its source in the wilds of Quebec to its outlet on the Bay of Fundy, it is indeed "a thing of beauty and a joy for ever."
- Our Little Canadian Cousin, p.7.
Elizabeth Roberts MacDonald was the sister of Sir Charles G. D. Roberts. She published many short stories and poems throughout her career, both independently and in collaboration with her brothers. Her children's novel, Our Little Canadian Cousin is part of the "Little Cousins Series," a series of novels for children published between 1901 and 1937 to introduce children to different cultures from around the world. While Our Little Canadian Cousin is intended to represent life in Canada in a general way, it is set in Fredericton, and the action takes place amid familiar settings such as Old Government House, College Hill, the Legislative Library, and in a nearby Maliseet community. It describes life in Fredericton throughout the year, including activities such as hiking, snowshoeing, sleighing, skating, and camping, which MacDonald saw as distinctly Canadian. The characters in the story express particular interest in Juliana Horatia Ewing and make reference to her works and to her time in the city.
Glenn Murray
"For everyone who's ever felt misjudged or misunderstood."
- Dedication, Walter the Farting Dog
Who would have thought that a farting dog could be heroic, or that letting wind could save a family from crime? Glenn Murray and William Kotzwinkle had an inkling, and with inspiration from a Fredericton bullmastiff with a gas problem, created a series of hilarious stories featuring the flatulent pooch that went on to become a huge success, topping the New York Times bestseller list in 2003.
Walter isn't all fun and games, though. Under the gut-busting humour, Murray's stories remind readers that it is important to be patient and accept differences, and that liabilities can turn out to be assets. Perhaps this can be said of the Walter the Farting Dog series, which was rejected by twenty-eight publishers because of its controversial theme before finally being accepted by a twenty-ninth and achieving astounding popularity.
As an employee of the New Brunswick Department of Education and the father of two sons, Murray is deeply interested in childhood literacy and in getting boys to read. He believes that boys need to see grown men reading and that it is important that books on subjects that interest boys be available to them. And what is more amusing to boys than farts? The liability that almost nearly prevented Walter the Farting Dog from being published is exactly what makes it appeal to boys and girls of all ages, inspiring even reluctant readers to pick up a book and read.
Marie Resmer (1954-)
"It means a lot to all the world
That trees are here to stay,
For every living thing on earth
Needs them in some way.
- A Trip Through Time with Inspector McTree
In spring and summer, Fredericton, the city of the stately elms, is caressed by the sound rustling trees. Maples, oaks, elms, and birches line the streets and crowd the parks, covering the ground with a blanket of leaves in autumn, and providing a home for wild creatures year round. Forestry is an important part of the economy in New Brunswick, and Marie Resmer's rhyming picture books introduce children to this industry and to the environmental issues that threaten it. Through characters such as Inspector McTree and EnviroDoc, Resmer teaches children about forestry and how they can help protect our world for generations to come.
Darlene Ryan (1958-)
"I'm going to ask Anne to marry me," Dad said.
I did a cartoon spit-take. Milk and strings of cereal sprayed everywhere. "Marry you?" I choked out.
- rules for life
Darlene Ryan has worked as many things, but she has always been a writer. From memoir short stories to novels to picture books, she writes in many genres, and always with humour and tenderness. Kisses, kisses, kisses was created in partnership with the Early Childhood Education Centre at the University of New Brunswick and Born to Read New Brunswick and is a gentle, playful, rhythmic poem that captures the ways a baby connects with family and with the world. It is in her young adult novel, rules for life, however, that her eye for detail and her wicked sense of humour rumble through as she tackles the sort of challenging issues that contemporary teens face. rules for life was named to the Canadian Children's Book Centre's Our Choice 2005 list and nominated for both the American Library Association's Best Books for Young Adults list and the Young Adult Library Services Association's Teen Top Ten list.
Carole Spray (1942-)
"Wee-haw coltie... I'm your fadder!... Come to me coltie, come to me!! Wee-haw. Come to me."
- The Mare's Egg, p.43.
Carole Spray is a former elementary school teacher with an interest in Eastern Canada's folklore. Her picture book, The Mare's Egg, is a retelling of a New World folktale about a nave pioneer who sets out to start a new life in North America. Life is hard, and the pioneer realises that he needs a horse to help him with his work. Unfortunately, he is duped by a neighbouring farmer and purchases a pumpkin, which he belives is an egg from which the ideal horse will hatch. Spray's humourous story captures the challenges of life in North America in the nineteenth century.