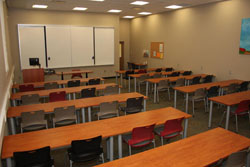 The Milham Room is found in Room 100 on the main floor of the HIL.
This facility is normally arranged in lecture style with 26 tables and 52 chairs. A manual height-adjustable table permits wheelchair accessibility. The room may be reconfigured to permit boardroom and small group settings for varying numbers.
The instructor's podium is equipped with a Dell PC, wireless keyboard, wireless mouse, presentation remote, visual presenter, DVD, and VCR, attached to a ceiling mounted Panasonic PT-EZ580U LCD projector with a 10ft. by 6ft. wide-screen 1920x1200 WUXGA display and ceiling-mounted stereo sound system. All peripherals are controlled with a wireless touch panel. A flip chart and MacBook adaptors are available upon request.
Internet connectivity is provided through the UNB network, allowing access to UNB online resources.
To connect personal laptops – please use the BARCO system. Directions for the BARCO system are available in the Milham Room podium.
Wireless coverage and electrical outlets permit laptop usage by both presenters and participants. 
The Milham Room is open to students as a quiet study room when it is not booked. To determine availability, check the booking calendar posted next to the door and be prepared to leave 10 minutes prior to any scheduled event.  We ask that the following rules be observed:
Please see the Milham Room Helpful Hints for more information.
Instruction Facilities
Learning Commons (First Floor)
Research Commons (Third Floor)
Fourth Floor