By Hon. D.L. MacLaren, P.C.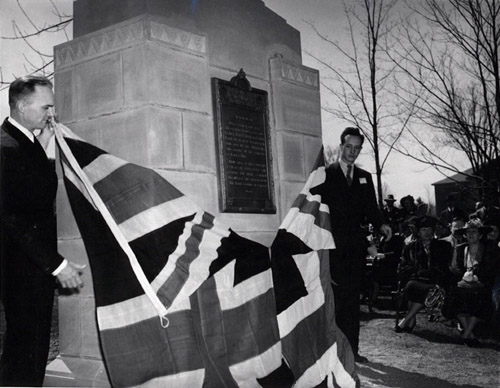 Prof. R.J. Love and J.C. McNair (son of Premier J.B. McNair) unveiling the Poets' Corner Monument
---
We are assembled this afternoon to pay tribute to the memory of three illustrious sons of this province. Such an occasion is no ordinary one. We are gathered about this memorial to express our reverence and admiration for that great heritage they gave to us in the world of literature.
The site upon which this commemoration is to take place has been well chosen. We point with pride to our university of New Brunswick. Founded by men of culture, of sound judgment with unbounded faith in the future, well and truly laid were the foundations of this early institution of learning.
It would be difficult to single out the names of graduates and others who have given so much for the advancement of the university. I cannot, however, let this opportunity pass without mentioning one who has made such an outstanding contribution to the university by his altruistic interest in the student body and the beautiful memorial buildings he has made possible. Needless to say I refer to the Right Honorable Lord Beaverbrook, one of New Brunswick's greatest sons.
Bliss Carman, Sir Charles G. D. Roberts and Francis Joseph Sherman were born in or near Fredericton. They were educated in this university and graduated from these halls. Thus they spent their early life in these surroundings.
They loved New Brunswick, found joy in her natural beauty and portrayed it as only native sons could do. It is fitting, therefore, that this memorial be erected to ensure that those who wend their way up the hill in future years may be reminded that they too once passed this way.
As Lieutenant Governor of New Brunswick and the representative of His Majesty the King I feel very honoured in having been asked to unveil this memorial, erected by the Historic Sites and Monuments Board.
On behalf of the people of New Brunswick I express grateful thanks to those who made possible the occasion which brings us together this afternoon. The inscription on the bronze plaque which I am about to unveil reads:
IN HONOUR OF
BLISS CARMAN, 1861—1929.
SIR CHARLES G. D. ROBERTS, 1860—1943.
FRANCIS JOSEPH SHERMAN, 1871—1926.
BORN IN OR NEAR FREDERICTON, EDUCATED IN THIS
UNIVERSITY AND BURIED IN THE CEMETERY ON
FOREST HILL.
THEIR GIFTS OF VERSE ENRICHED CANADIAN LITERATURE
AND GAINED FOR THEIR COMMON BIRTHPLACE THE
DESIGNATION "THE POETS' CORNER OF CANADA".
A.D. 1947 REPLACED 1967