In 1785 seven men signed the petition requesting the establishment of a school to teach the liberal arts and sciences in the neighbourhood of Frederickburg. Interestingly, the seven seem to have little in common except for their residence in New Brunswick, their loyalty to the British Crown, and their concern regarding the lack of educational facilities in the infant Province. Some of the seven became well-known in New Brunswick; the others remained relatively obscure. However, each man played an important role in the creation of the University of New Brunswick.
William Paine
William Paine, or "Gulielmus Pain" as he is styled in the records of Harvard University, was the first signatory of the Petition of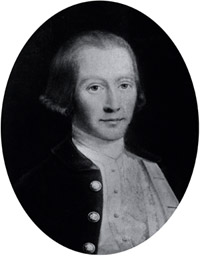 1785. A Harvard graduate (Class of 1768), Paine studied medicine with a Salem, Massachusetts, doctor prior to the American Revolution. At the outbreak of that conflict, Paine quickly aligned himself with the Loyal American, decrying the rebellious Sons of Liberty as "a Sett of cussed Venal, worthless Raskalls."
According to legend, the move to New Brunswick with the Loyalist refugees occasioned great discontent in Paine's wife Lois Orne, who wished to see their children "properly educated." Her promptings on this issue may have caused Paine to initiate the move for an academy of liberal arts and sciences at Fredericton.
Although he was appointed the first Clerk of the House of Assembly in 1786, Paine did not settle well into New Brunswick life. In 1787 he and his family moved back to Massachusetts, a move which earned Paine the somewhat disparaging sobriquet of "the returning loyalist." Later years would see William Paine become a citizen of the United States. While he is notable in Massachusetts' history as a founder of the American Antiquarian Society, here in New Brunswick he is remembered for his contribution to the foundation of the Provincial University.
William Wanton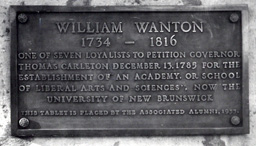 The son of a former governor of Rhode Island, William Wanton was known more for "his prowess at the dining table" in Saint John than for any great interest in establishing a college at Fredericton. However, Wanton did take enough of an interest in the project to assist Paine in his endeavours toward that end.
Possessed of a genial attitude toward free trade with the United States, a trade more commonly called 'smuggling' in those days, William Wanton held the post of customs collector in Saint John for approximately thirty years. He died, it has been said, "incredibly rich [and] incredibly fat."
George Sproule
A native of Ireland, George Sproule travelled with the British Army to America in 1765. Trained by the Army as a surveyor and engineer, he found himself practicing his profession in New Hampshire.
At the close of the Revolution, Sproule ended up in New Brunswick as the colony's Surveyor General, a prestigious appointment which he held in addition to a seat on His Majesty's Council. Sproule died in 1817 after an "honorable and laborious life" in public service.
Zephaniah Kingsley
Zephaniah Kingsley settled in America in 1770. Kingsley's religious beliefs forbade him from bearing arms in the American Revolution, but he suffered nonetheless, being imprisoned three times for his opposition to the rebellion.
A merchant in Charlestown, he pursued his occupation in Saint John after the Loyalist exile, dealing in such things as European goods, tea, and salmon. Although not as prominent as some of the other signatories, Kingsley seems to have been a solid citizen of New Brunswick who did not shirk what he perceived as his obligations to his new home.
John Coffin
John Coffin, as a young Britisher in Boston in 1775, found himself fighting in the Battle of Bunker Hill. His bravery earned him a field commission as Ensign on the spot. Having taken up the British cause in America, Coffin pursued it with zeal, raising and leading a unit which earned the ominous nickname of "Coffin's Cavalry." A Major by the end of the war, Coffin was temporarily stalled in his military career due to a disagreement with King George III.
Moving to New Brunswick, Coffin took up politics and agriculture, serving as a member of the House of Assembly and His Majesty's Council. In 1803, his argument with the King long-since settled, he advanced to the rank of Major-General.
Ward Chipman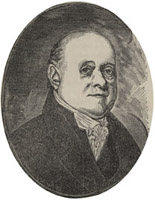 Ward Chipman, the elder, known to his friends as "Chippy," graduated from Harvard University in 1770. He proceeded to study law and was admitted to the bar. Along with an old friend, Edward Winslow, Chipman moved to New Brunswick, opening a law office in Saint John and becoming heavily involved with the government of the Province. In his capacity as Solicitor General, Chipman was instructed to draft a charter for the proposed college. Chipman obtained a copy of the charter of King's College, New York (Columbia University) and based his draft upon it. Unfortunately it proved too liberal for the Lt. Governor's taste and was altered substantially before its release in 1800.
Having served New Brunswick well as a boundary commissioner, member of the Assembly, representative on His Majesty's Council, and Justice of the New Brunswick Supreme Court, Chipman also briefly administered the Province, just before his death in 1824.
Adino Paddock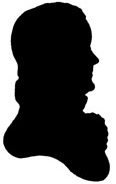 The last gentleman to be remembered is Adino Paddock who placed his signature to the left of the other six. Very little is known of Paddock except on a professional level. He had some medical training and set up an apothecary shop in Saint John in the 1780s. Situated first on King Street and later on Prince William Street, the shop offered "CHYMICAL AND GALENICAL MEDICINES" and such patent medicines as "DAFFY'S EXILIR of HEALTH." One of Paddock's daughters married Frederick P. Robinson, a gentleman of position and means. It was in the house of his son-in-law that Paddock, a "very respectable inhabitant" of the Province, died in 1817.
The Petition of 1785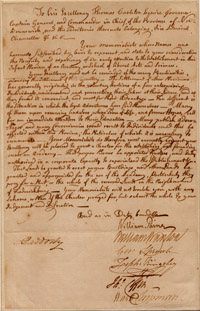 To his Excellency Thomas Carleton Esquire Governor Captain General, and Commander in Chief, of the Province of New Brunswick, and the territories thereunto belonging, Vice Admiral Chancellor &c &c &c
Your memorialists whose names are hereunto subscribed, beg leave to represent, and state to your consideration the Necessity and expediency of an early attention to the Establishment in this Infant Province of an Academy, or School of liberal Arts and Sciences.
Your Excellency need not be reminded of the many Peculiarities attending the Settlement of this Country The Settlement of other Provinces has generally originated in the voluntary Exertions of a few enterprising Individuals, unincumbered, and prosecuting their Labor at their Leisure, and as they found it convenient, and most for their Advantage – Far different is the Situation in which the loyal Adventurers here find themselves – Many of them upon removing had Sons, whose Time of life, and former Hopes, call for an immediate attention to their Education – Many publick advantages, and many Conveniences would result to Individuals could this be affected within this Province, the Particulars of which it is unnecessary to ennumerate – Your Memorialists do therefore most earnestly request your Excellency will be pleased to grant a Charter for the establishing, and founding such an Academy – That proper Persons be appointed Trustees, and duly authorized in a corporate Capacity to superintend the Establishment.
That Land be granted to erect proper Buildings, and other Land be granted, and appropriated for the use of the Academy, particularly they pray for a Part, or the whole of the reserved Land in the Neighbourhood of Frederickburg – Your Memorialists will not trouble you, with any Scheme, or Plan of the Charter prayed for, but submit the whole to your Judgement and Discretion –
And as in Duty bound
                       William Paine
A Paddock    William Wanton
                       Geo: Sproule
                       Zeph: Kingsley
                       Jho: Coffin
                       Ward Chipman