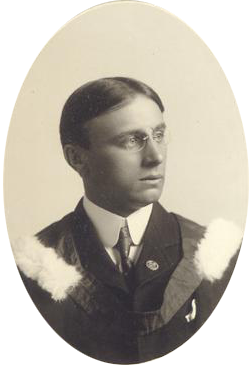 b. 19 July 1884, Hopewell Hill, Albert Co., NB
d. November 1959, [Saint John]
A civil engineer by training, Steeves was a tireless chronicler of the history the University of New Brunswick. He received a BAI in 1905 from UNB – the designation then of a degree in Engineering, followed by an MSc in 1913. After service in the First World War, Steeves joined North American Life [insurance company] and became its New Brunswick manager in 1926.
Very active in University affairs, Steeves served on the Senate (predecessor to the Board of Governors), the Alumni Council, and was a driving force behind the "Half-Million Dollar Endowment Fund" campaign of 1925.
At Encaenia 1947, C.M. Steeves was awarded an Honorary LL.D. for his commitment and dedication to UNB. At this same ceremony, Lord Beaverbrook was installed as UNB's Chancellor. Steeves presided at several campus plaque unveilings for the Historic Sites and Monuments Board of Canada: one identifying the Old Arts Building as Canada's oldest university building still in use; and another celebrating the dedication of the Brydone Jack Observatory in 1955.