Library Instruction Services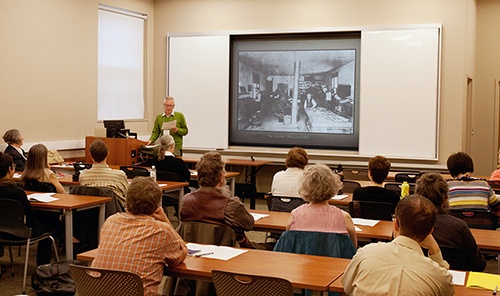 Instructional librarians collaborate with faculty to help develop the academic research skills and confidence students need to successfully navigate the increasingly complex world of information. Your liaison librarian can work with you to help integrate information literacy objectives into your curricula, or provide one-off instructional sessions ranging from basic library orientation to advanced course-specific sessions tailored to the specific content of individual classes.
Our instruction is informed by the Association of College & Research Libraries' (ACRL) Framework for Information Literacy. Library instruction can take a variety of forms: lectures, workshops, one-on-one meetings, or distance sessions held over web conferencing. For more information, please contact the liaison librarian for your subject area and campus.
Library Orientation

Library orientation sessions introduce first-year students to the library, and to the basic general techniques of library and information research. Individual students or groups are also welcome to contact us to book library tours.

Advanced Course-specific Sessions

Advanced course-specific sessions provide students with in-depth instruction on the information sources and research skills most relevant to a course or to a particular assignment. These sessions typically can be arranged within your class schedule, and a hands-on workshop in a computer lab may be possible. For more information, please contact the appropriate liaison librarian for your subject area and campus.

Curriculum-Integrated Information Literacy

Library instruction that offers sequenced learning objectives and outcomes is the most effective method for lasting improvement in student research skills. We encourage you to contact your liaison librarian to discuss strategies for incorporating information literacy instruction in your courses. In the classroom, this can mean help designing library assignments, or grading library assignments written by your librarian. In the D2L environment, we can custom-design library modules for your course, or offer an active librarian presence in D2L discussion groups. Your liaison librarian will work with you to find the level of engagement that works best for your course.
Related Services
Librarians can also help you with your own teaching and research. The following list is just a sample of the types of assistance we routinely provide. Please contact the appropriate liaison librarian for your subject area and campus to learn more.
Assignment Consultations

Academic Integrity

Research Consultations

Departmental or Group Presentations

Library Resources and Course Technology

Specialty Instruction