---
What is UNB WorldCat?
UNB WorldCat is a massive library catalogue. It includes over 290 million bibliographic records from libraries worldwide, including e-journals and e-books, along with selected journal articles. UNB WorldCat searches all these libraries' records, but provides a view which ranks UNB Libraries' material first.
UNB WorldCat also includes material UNB does not own, providing you with a "Request item" link which takes you to a Document Delivery form with the relevant information filled in.
To expand your search beyond UNB, select the "Libraries Worldwide" option above the search box on the library homepage or on the results page use the check box on the left of your search results.
---
How can I do more advanced searching in UNB WorldCat?
Boolean Operators, Nesting and Phrase Searching
The default Boolean operator in UNB WorldCat is AND; however, you may choose to use more operators to refine your search. Boolean operators must be entered in upper case or special characters: AND , OR and, NOT . Lower case and, or, and not search as terms. To search exact terms or phrases use quotation marks. To group concepts use parentheses around the words in question.
Example: (salad OR greens) NOT (diet OR nutrition)
---
Wildcards and Truncation
# - replaces one character in the middle of a word (wildcard)
? replaces multiple characters in the middle of a word (wildcard) or at the end of a word (truncation)
* - replaces all remaining characters in a word (truncation)
Wildcards are used to take the place of characters in the middle of words. For instance if youre not sure of the spelling of a word (is it organisation or organization) or youd like to include variants of a word (woman/women) you may use a number sign (#) to represent one character or a question mark (?) to represent multiple characters. Use caution with the question mark, however, because unless you limit the number of wildcard characters you might end up with some results which are not meaningful. For example searching the term lab?r will return results for labour as well as labor; however, it will also return results for Labrador. You may include a numeral if you know the maximum number of characters the wildcard will replace. In this case, you might want to use the search lab?2r. Truncation characters are used to substitute any number of characters at the end of a word. You need to include at least the first three letters of the term, but you may then use either the question mark (?) or the asterisk (*) to represent any number of characters at the end of the word.
For more information on searching please refer to the UNB WorldCat Search Help (Also known as WorldCat Discovery)
---
UNB WorldCat Index Labels
UNB WorldCat has numerous Index Labels which can be used to search on specific pieces of information.
For example, an ISBN can be searched using isbn: 9780763625894.
A library shelving location can be searched using kw: ghost AND b8: HIL-CLC (This search finds all material in the HIL-CLC shelving location with the keyword ghost).
A journal title can be searched using ti: journal of advanced nursing AND mt:ser
A title keyword and the audience term for primary can be searched using ti: moon AND mt:pri
Call numbers can be searched using nu: PT2663 .A64M3813 2009 (Call numbers work with or without spaces.)
Language of publication can be searched using ln=fre AND kw:animaux (This search finds all material written in French with the keyword animaux)
If you find you are getting no results for a call number try breaking off pieces from the end and replacing them with an asterisk nu: V815.5.G7*
Some commonly used index labels are:
ti: for title
pb: for publisher
au: for author
issn: for ISSN
isbn: for ISBN
yr: for publication date
ln= for language of publication
se: for series title
b8: for shelving location
nu: for call number
su: subject
Material format search index terms:
mt:ser for serial publications
mt:bks for books
mt:vid for videos
Audience search index terms:
mt:juv for juvenile (includes all codes below)
mt:pre for preschool, intended for children, approximate ages 0-5 years.
mt:pri for primary, intended for children, approximate ages 6-8 years.
mt:ejh for pre-adolescent, intended for young people, approximate ages 9-13.
mt:shs for adolescent, Intended for young people, approximate ages 14-17.
mt:jau for juvenile audience, intended for use by children and young people, approximate ages 0-15.
A list of the most commonly used index labels can be viewed here: UNB WorldCat index labels and here: UNB WorldCat complete alphabetical list of search index labels.
---
What do the different sort options do?
UNB WorldCat offers several different methods for sorting your search results.
Best Match = Blends Title, Author, Date and Worldwide Holdings with an emphasis placed on Title.
Recency = Blends Date, Title, Author and Worldwide Holdings with an emphasis placed on Date.
Library = Considers individual holdings first, then blends Title, Author, Date and Worldwide Holdings.
Author (A to Z) = Sorts by special characters or numbers in the first name, then A to Z by last name.
Date (Newest) = Sorts chronologically by publication date with newest items listed first.
Date (Oldest) = Sorts chronologically by publication date with oldest items listed first.
Most Widely Held = Presents an "unclustered" view of search results with an emphasis on Worldwide Holdings in a blend of Date, Title, and Author. Use this sort option to view best results for interlibrary loan requests.
Title = Sorts by special characters, then alphabetically by Title. Only the article "the" is ignored.
---
What does the "View all editions and formats" link do?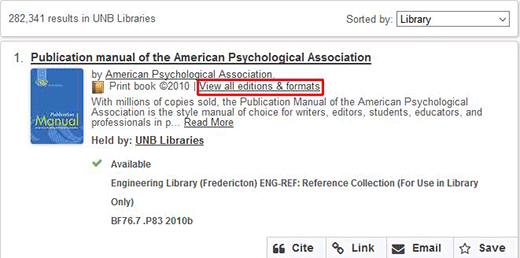 UNB WorldCat groups similar editions of works together. The "Editions and Formats" link, found on the search results screen, appears when there are multiple editions or formats of a work available. It is important to use the "Editions and Formats" link as the edition or format you are looking for may be hidden from view . For example another branch library may hold the edition you want. Sometimes the most recently published edition of a book only appears in the "Editions and Formats" list, because it is not yet owned by many libraries.
---
Can I find articles in UNB WorldCat?
Some journal articles are searchable through UNB WorldCat. The article databases currently searchable in UNB WorldCat are listed below. NOTE: Comprehensive journal article searches are best done with the article & research databases for a particular subject. See our subject guides for recommendations.
ABI/INFORM Complete
Academic Search Complete
ACM Digital Library
Annual Reviews
ArticleFirst - OCLC index of articles from the contents pages of journals
BioMed Central
British Library - Article records produced by the British Library as part of the British Library Inside program
Business Source Complete
CAMIO - Catalog of Art Museum Images Online
Canadian Science Publishing Journals
CBCA Complete
Elsevier Science Direct & SCOPUS, 2006 forward
Electronic Collections Online (ECO) - OCLC collection of scholarly journals
Emerald Group Publishing
ERIC - Journal articles and reports in education
IEEE Publications Database
Institute of Physics eJournals and Archive
JSTOR
MedLine - All areas of medicine, including dentistry and nursing
OAIster - Union catalogue of digital resources. OAIster was originally developed at the University of Michigan Libraries
Oxford Journals
PapersFirst - OCLC index of papers presented at conferences worldwide
ProceedingsFirst - OCLC index of worldwide conference proceedings
Project Muse
ProQuest Nursing & Allied Health Source
PsycARTICLES
Royal Society of Chemistry Journals
SAGE Journals
SpringerLink
Taylor and Francis Journals
Wiley Online Library
In addition, the following databases may be selected to search from the "Advanced Search" screen. Select "Other databases" and check the box beside each database.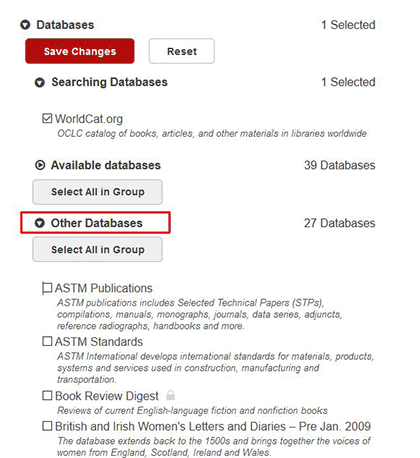 Art Index
ASTM Publications
ASTM Standards
Book Review Digest
British and Irish Women's Letters and Diaries
China: Trade, Politics, and Culture, 1793-1980
Defining Gender, 1450-1910
Eighteenth Century Journals I
Eighteenth Century Journals II
Empire Online
The Globe and Mail
Index to Legal Periodicals & Books
Informa Healthcare e-Journals
Institute of Physics eJournals and Archive
Latino Literature
LegalTrac
Mass Observation Online
Medieval Travel Writing
MIT Press Journals
New York Times
North American Immigrant Letters, Diaries, and Oral Histories
North American Women's Letters and Diaries
Royal Society of Chemistry Journals
SAGE Journals
Slavery, Abolition and Social Justice
Smithsonian Global Sound for Libraries
SpringerLink
The Wall Street Journal
The Washington Post
---
Is everything owned by UNB Libraries searchable in UNB WorldCat?
Some material is not searchable through UNB WorldCat.
The SOULS database provides access to the following material that is not in UNB WorldCat at this time.
Some material located in the Forestry Files Collection. (Location: SCI-FORF)
Approximately 6,000 Government Documents brief catalogue records. (Locations: HIL-GOV and HIL-STORG)
Science and Engineering undergraduate reports, e.g. Engineering Senior Reports. (Locations: ENG-SENRPT and SCI-THS)
Some of this material will have records in WorldCat but UNB Libraries will not show up as an owning library.
---
What do the locations in UNB WorldCat mean?
The locations describe the sub-collection in which a particular book is shelved. UNB WorldCat location descriptions and corresponding building floor plans may be may be found here: Locations Guide
---
What does the "Request Item" button do?

The "Request Item" button performs 2 functions. It acts as a hold button which sends a request to library staff to hold the item for you. It also links to the document delivery / interlibrary loan request form in some cases.
For example, if a book is listed as available in the catalogue and is in a location other than your normal library you are able to use the "Request Item" button to fill out a hold request. This is most useful for materials located far away or in a storage location. When filling out a request be sure to change the pick-up library to the desired location for pick-up. It is not necessary to enter dates in the hold schedule on this particular form. It is recommended to not use the hold schedule. If you need an item on a specific date please ask for assistance. Your hold will usually be processed the next day and you will receive an email notification once it is on the hold shelf. Holds stay on the hold shelf for 3 days for you to pick them up.
If a book is listed as checked out in the catalogue, or not owned by UNB Libraries, the "Request Item" button will appear but instead of directing you to a hold request it will take you to a document delivery request form.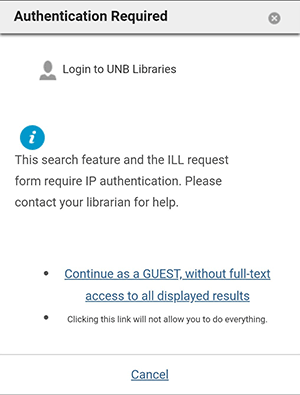 ---
Why am I seeing a pop-up box asking me if I want to login or continue as a guest?
When you are searching UNB WorldCat from off-campus certain databases require you to login before they can be searched. Logging in gives you all available search results. If you continue as a guest you will get the results from those databases that do not require a login.
What is the difference between WorldCat FirstSearch and UNB WorldCat?
WorldCat FirstSearch (available in the Resources - Catalogues menu on the library homepage) does not include journal article records and does not provide the same relevancy ranking as UNB WorldCat. The relevancy ranking is not based on whether UNB owns an item. Document Delivery requests cannot be made from within WorldCat FirstSearch. Also, FirstSearch does not provide immediate information about a book's circulation status.
WorldCat FirstSearch does provide a more detailed view of records (more notes are displayed) and provides more searchable fields than UNB WorldCat. More record information can be exported from WorldCat FirstSearch than from UNB WorldCat.
We'd like to hear your comments. Do you like UNB WorldCat? Tell us what you think at worldcat@unb.ca