Subscribe to Qwerty
We now offer four price points for ordering issues of Qwerty:
$ 9 for our latest issue
$ 6 for any one of our fabulous back issues
$16 for a two-issue subscription
$ 24 for a four-issue subscription (33% off the cover price!)
To Subscribe and Order Back-Issues
Send cheque or money order to:
QWERTY
c/o UNB English Dept
PO Box 4400
Fredericton, NB
E3B 5A3
CANADA
qwerty@unb.ca
If you wish to order specific back-issues of the magazine, it is advisable to contact us by email first and ensure that we have a sufficient number of copies in stock. All orders should include a letter specifying the issues or subscriptions you wish to purchase as well as a shipping address.
If there is a change of address after you have subscribed, please notify us immediately.
Digital Subscriptions
Now you can order digital copies of Qwerty for your iPhone, PC, or Mac through Magazines Canada's Digital Newsstand. Starting with Issue 27, individual copies of our latest issue as well as two-issue subscriptions are available.
All individual purchases and subscriptions are processed by Zinio.com, and require the use of Zinio software for viewing. For support with Digital Newsstand services, please see Zinio's online help section.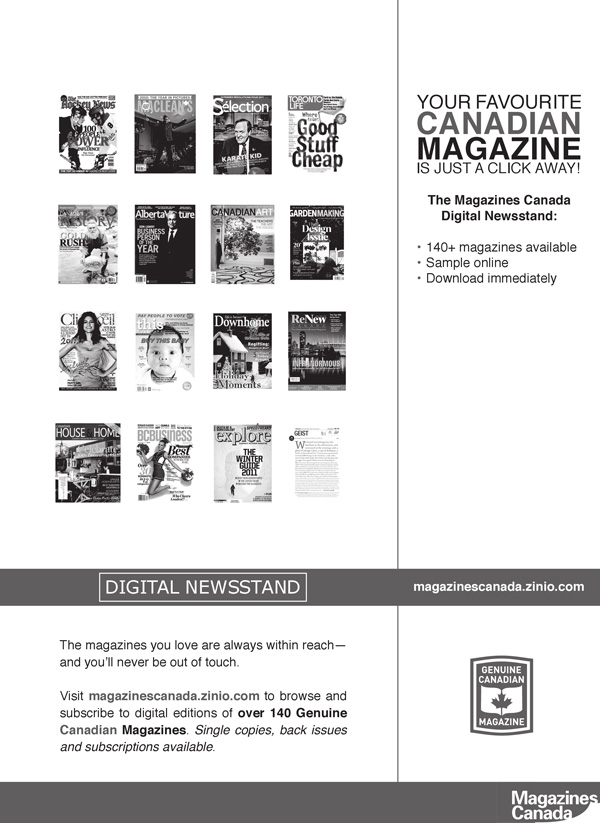 Fredericton Book Sellers
In addition to our nation-wide distribution through Magazines Canada, Qwerty is proud to be sold by local book sellers in Fredericton including:
Westminster Books — 445 King Street
Reid's Newsstand — 435 King Street

UNB Bookstore — 29 Dineen Drive